This is the third blog in Center for Global Development's Diaries from the Frontline series, now focusing on teachers. The original blog is available at https://www.cgdev.org/blog/diaries-frontline-supporting-and-engaging-teachers-during-covid-19
---
Diaries from the Frontline: Supporting and Engaging Teachers during COVID-19
By Rita Perakis, Nikita Khosla, Zia Akhter Abbas and Nadia Naviwala
Schools in most of the world have been closed for the last couple of months and most developing country governments have not yet announced plans for reopening.
Teachers are facing a great deal of uncertainty during this time about school reopenings, the impacts of closures on children and their ability to catch them up, and, fundamentally, about their own livelihoods and the economic effects of the crisis.
Following the 2008 economic crisis, there was a dip in education spending in lower-middle income countries which did not recover for years. Case studies indicate that many places did not cut teacher salaries, but may have responded by increasing workloads or pupil-teacher ratios, or freezing teacher hiring and salary increases. The economic downturn from coronavirus is expected to be worse than the 2008 financial crisis, but even if countries choose to protect teacher salaries within public budgets, private school teachers will remain vulnerable. Low-cost private schools in particular have been unable to continue paying teacher salaries with schools closed and parents unable to pay fees.
Last week we looked at how two education nonprofits are trying to sustain learning from a distance during COVID-19. This week, we are looking at how these organizations are supporting their own teachers and principals. The Citizens Foundation (TCF) and the Luminos Fund are operating in different contexts but both have been able to sustain operations and continue to support teaching staff and other personnel. Their experiences show that teachers, not buildings, are the backbone of any school system. And even while schools are closed, there is evidence that teachers are continuing to keep students engaged with learning.
The Luminos Fund: Teaching during emergencies
Teachers in Luminos's Second Chance programs are young men and women hired from the counties and communities that Luminos serves. Similar to students, many teachers' families in Liberia face fragile economic situations during COVID. When the COVID crisis struck, Luminos recognized the importance of keeping staff and teachers on salary even if schools closed.
First, from an educational standpoint, if Luminos laid off teachers in Liberia, it would be challenging to be ready to reopen schools or proactively re-enroll students when the crisis ends, particularly if teachers relocate to live with family members. Second, from a humanitarian standpoint, putting a hold on salaries adds enormous financial strain to an already vulnerable population. Holding salaries would actively harm poor families.
Thanks to increased flexibility from its core funders, Luminos has been able to continue paying teachers their full salaries. This support has also enabled Luminos to pivot quickly and shift staff from core classroom programming to providing learning materials, rice, soap, and detergent to students' homes in Liberia.
Teachers have gone above and beyond to help students continue learning during lockdown.
Varney is a Second Chance teacher who lives and teaches in a rural village in Liberia. When the government issued guidance to limit gatherings to ten people at the start of coronavirus, he continued teaching his class of 30 children, broken into smaller groups of ten or less. Since the full lockdown began and Luminos began distributing learning materials (which were designed with input from some of Luminos's teachers), Varney walks by students' houses, keeping a distance, to give them lessons and make sure they have completed them. He says his students are eager to return to school. Varney and his family, like many teachers, have also been personally affected by COVID: they've faced economic hardship and are eating less.
Another teacher, James, also goes door-to-door to check on his Second Chance students—from a distance—to ensure they are making use of the books that Luminos provided. He says his students' families are most concerned about food security, and notes that his own family is also eating less during COVID. He is confident his students will return to school when it reopens but says it will be challenging for them to catch up. He says he hopes this academic year can be extended to ensure these children "come out victoriously."
Other Second Chance teachers do not live in the communities where they teach and, due to the lockdown and curfews, have few options to ensure their students are making progress on the reading and math materials that Luminos provided, or help students on a day-to-day basis. In these cases, Luminos supervisors check in with the students weekly.
Luminos's experiences could provide lessons for Liberia more broadly and other countries. George Werner, former Minister of Education in Liberia and a member of the Luminos Fund's advisory board, recently observed that the organization's model for recruiting and training teachers could be scaled to build a cadre of "emergency teachers" to work alongside mainstream systems and provide rapid response capacity to get children back to school after crises like COVID.
"The Luminos Fund hires high potential young people who are often only Grade 10 graduates and provides them with three weeks of intensive training followed by weekly in-classroom coaching," Werner says. "For countries with massively stretched school systems and average class sizes already in the 50+ range, this is an effective, practical auxiliary option to educate children.
"Education is in an emergency now worldwide, but for many countries in Africa, education has been in an emergency for decades. Normalcy does not apply in an emergency. All emergencies need radical thinking."
TCF: Supporting female teachers
Imagine writing your employer a thank you letter for paying your salary. That's what happened at TCF last month. When salaries were disbursed in the days before May 1, principals and teachers responded with letters of appreciation, including messages like, "When our world is in lockdown, jobs and salaries are not safe, our organization did not abandon us… Even in this lockdown, we were given our salaries at our doorsteps in a respectful manner. It is rare to find such examples among other organizations."
TCF employs only women on its faculty and is the largest private employer of women in Pakistan. Often, these are young women who got permission from their families to work as teachers because it was seen as a safe and respectable way to engage in employment, even in a small village or katchi abadi (informal settlement or slum). Now with COVID-19, they may be the only ones in their households who are still receiving paychecks on time (or at all) when their husbands, brothers, or fathers may not be. This impacts their role and the way their employment is perceived by their families.
Continuing to pay and support teachers and principals has enabled TCF to concentrate on ensuring that children in their schools are cared for and have access to learning materials. Like a group of Teach for Pakistan fellows who evolved theidea of a WhatsApp-based school, TCF school leaders have, on their own initiative, been collecting the phone numbers of their students and forming WhatsApp classrooms using videos, voice notes, and text messages. "Our WhatsApp group has a timetable. Teachers assign tasks based on the timetable, and students share their work on the group, which teachers give them feedback on," said Sumaira Aslam, a principal in inner-city Karachi. "There are many students who don't use WhatsApp. For them, we send them the same tasks over SMS. For students we haven't reached, we have put a sign on the gate and asked teachers to convey the message throughout the community."
Sajida Ambreen, a principal at another school in Karachi, has made students responsible for collecting the phone numbers of their friends. She monitors the participation of students and teachers. "Girls have the strongest participation," she said, "The boys are busy. But they can listen to the voice note lectures when they get off from work." She said despite the lockdown boys were working as shopkeepers, drivers, tailors, or doing overnight shifts at the nearby textile mills. "In our community, kids support the parents to run the house. Some parents have just let go and the kids pay their own fees. Others have fathers who are ill."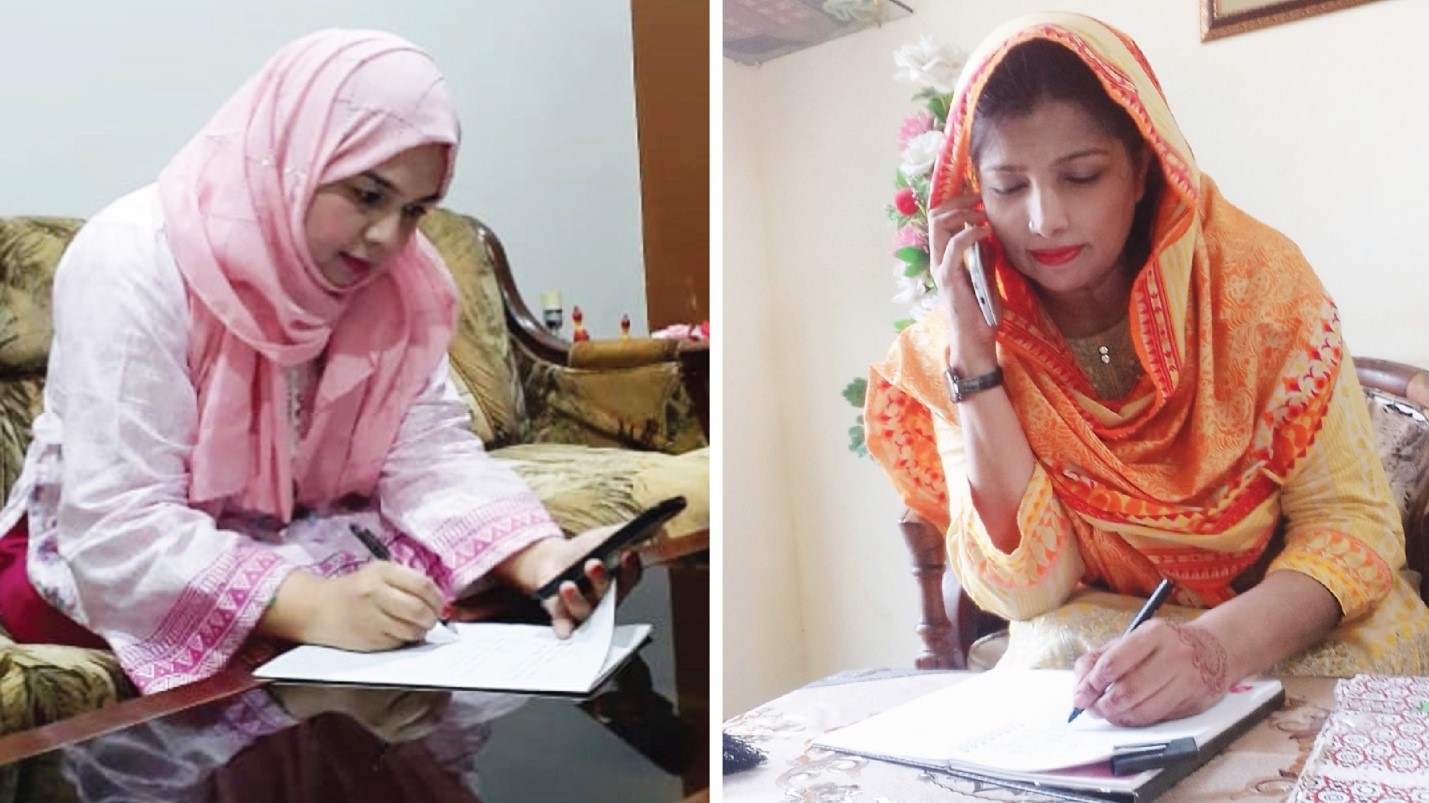 These programs are led by TCF's principals. To reach the many students who do not have mobile phones or internet, another principal posted notices on the school gates and enlisted the chowkidhar (gatekeeper) to deliver the message to families. Alongside these faculty-led initiatives, TCF is designing learning materials that can be exchanged with teachers via drop-off points in the community.
Although families pay a small fee for children to attend schools, TCF operates mostly through philanthropic donations. The current economic recession, combined with the cancellation of fundraising events, could be a threat to TCF's ongoing ability to cover costs. However, TCF's philanthropic base is diversified, with a mix of local, diaspora, corporate, foundation, high net worth individuals, and crowd-funded philanthropy. Also, a large proportion of giving to TCF is motivated by zakat, a religious requirement that Muslims must donate 2.5 percent of their wealth. Zakat is calculated as a proportion of wealth, rather than income, so it is less affected by economic cycles of growth and recession. In these uncertain times, these aspects of TCF's funding model can help protect their large school network.
---
Next week, we will take a deeper look at how these organizations are planning to prepare teachers, school leaders, and children for school reopenings.
Center for Global Development features Luminos in its series: "Diaries from the Frontline." The series focuses on education organizations that are pivoting during COVID-19. Here is the first installment, which is also available at www.cgdev.org/blog/diaries-frontline-how-education-organizations-are-providing-food-and-relief-during-covid-19.