The fourth blog in Center for Global Development's "Diaries from the Frontline" series examines how education organizations, including Luminos, are preparing for schools to reopen. The original blog is available at https://www.cgdev.org/blog/diaries-frontline-preparing-for-school-reopening.
---
Diaries from the Frontline: Preparing for School Reopening
By Maryam Akmal, Nikita Khosla and Ali Nadeem Sipra
More than 20 countries have started to reopen schools in the last few weeks, with more expected to follow suit. Many countries that have reopened schools have not seen a spike in infections follow. However, others, like Israel, opened schools only to close some of them soon after due to a surge in infections among students and staff. When to open schools is primarily an epidemiological question, and the evidence on child infections and transmission is still far from conclusive.
Policymakers making difficult decisions about when to reopen schools are balancing the health concerns of the pandemic against the social and economic repercussions of school closures. Ultimately, schools cannot stay closed forever and governments need to start planning for an eventual reopening, whenever that may be. CGD colleagues and others have published evidence-based guidance on how policymakers should plan for school reopening. The recommendations include engaging communities in school reopening plans, targeting resources where most needed, incentivizing children to come back to school, making school environments safe, and instituting plans to recover learning loss. Ultimately, any guidance will have to be adapted to different contexts, as protocols that are being implemented in one setting may be hard to implement in others.
Last week we looked at how two frontline education organizations, The Citizens Foundation (TCF) in Pakistan and the Luminos Fund in Liberia, are supporting their teachers and principals through the crisis. In this fourth installment of our "Diaries from the Frontline" series, we highlight how TCF and Luminos are preparing their teachers, principals, and children for school reopenings.
TCF tackles reopening challenges, including ways to recover learning loss
After schools closed in March in Pakistan, TCF spoke with some of its teachers and principals to take their concerns into account while planning for an eventual reopening. Many TCF teachers and principals are proactively staying connected with kids and parents during school closures through regular calls and messages. Their primary concerns are student wellbeing, particularly students' physical and mental health, and learning loss—all of which need to be kept in focus if schools are to work for all children once they reopen.
For many students, schools offer a temporary escape from harsh conditions at home—half of Pakistanis believe that parents beat their children more during lockdown. Some areas, disconnected from traditional information channels, still lack guidance about the disease risk; in some communities kids continue to play cricket on the streets like it's a normal day. TCF principals and teachers, who continue to receive their salaries, have been providing information to children about how to stay safe from the virus, as well as providing emotional support so that kids are able to return to school once they reopen.
"Most children I talk to ask me when they will have their old routine back. They miss their school and class fellows," says Naila Liaqat, a principal at a government school managed by TCF in Punjab. Another principal, Saba Parveen Kayani, at a different school in Punjab says, "When some members of our community were diagnosed with COVID-19, the student body was gripped by fear. I told my students to be strong, to wash their hands regularly, and to keep a physical distance from others to not only protect themselves but also those around them."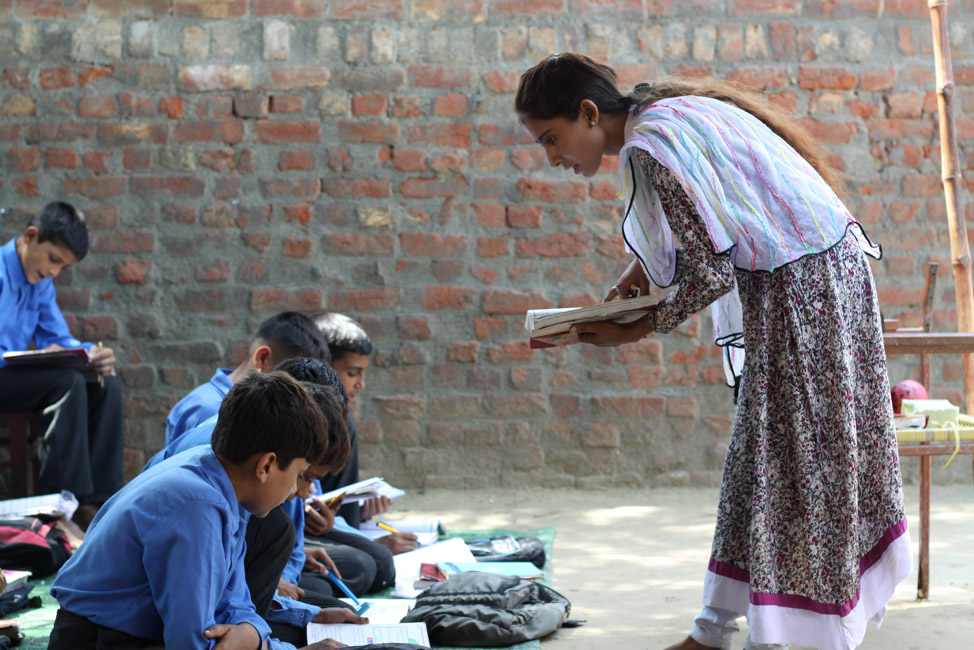 When TCF spoke with its faculty, the teachers and principals raised difficult questions about how to plan for reopening: If schools open in July, as currently scheduled, how will children walk three kilometers or more to school in the summer heat with temperatures soaring to 90 degrees Fahrenheit (32 degrees Celsius)? If schools open in August, how will teachers cover the entire syllabus by December when the government conducts the exams? It can take four weeks after the school year begins for textbooks to become available—how will learning happen without books?
"Since schools suddenly closed in March, I have been very worried about the future of my students. How will they finish the syllabus? How will teachers manage it?" says Sana Adil, a principal at a government girls' primary school managed by TCF in Sindh.
Other teachers and principals raised concerns about whether government schools that TCF manages under public-private partnership arrangements (roughly one fifth of its total schools) will continue to receive a sufficient government subsidy, which is conditional on enrollment numbers and test scores, if students migrate back to their native villages or test scores are low. How will schools cope with the financial blow, and will teachers be laid off? While TCF's diversified philanthropic base has meant that the organization has never needed to consider closing schools due to lack of financial support, the current economic recession comes around Ramadan, when TCF raises more than half of its total budget. In a recent CGD survey of frontline education organizations, close to three quarters of the respondents report a drop in private or philanthropic funding during the crisis.
TCF management has also been thinking about how to maximize learning once schools reopen despite the shortened academic year, which many teachers are understandably worried about. To that end, TCF has decided to cut down the curriculum in proportion to the reduction in academic hours while trying to maintain learning goals. This is possible because the government's curriculum contains a lot of repetition and redundancy, as well as content that is disconnected from the development of literacy and numeracy skills. For example, students might learn about Abdul Sattar Edhi, a revered Pakistani humanitarian, in social studies, English, and Urdu books; or Sindhi and Urdu books will contain the same story verbatim. TCF is planning to streamline overlapping or repetitive content to ensure learning is maximized despite the shortened school year.
TCF is aware that despite these efforts, student scores will probably take a hit—TCF will not penalize teachers or principals for that. The organization's primary goals remain prioritizing the physical and socio-emotional health of students and staff, and promoting meaningful learning as much as possible under these complex circumstances.
Luminos prioritizes re-enrollment, remediation, and resilience
In the coming autumn, the Luminos Fund plans to enroll a new cohort of students across its three programs in Ethiopia, Lebanon, and Liberia, pending safety assessment and local government guidance. Once schools reopen in Liberia, Luminos is preparing to deliver a specialized catch-up program for the cohort of students whose program was disrupted by COVID closures.
Given the uncertainty about how the COVID-19 crisis will evolve, when schools will reopen, or how long they will stay open, Luminos's strategy is to stay responsive, flexible, and connected to developments on the ground. Three key priorities guide the organization's reopening strategy:
Re-enrollment. Conduct outreach to the most vulnerable students to encourage re-enrollment.
Remediation. Assess students' learning gaps and deliver targeted remediation to help children catch up.
Resilience. Strengthen school systems to weather future closures and disruptions.
Luminos's Second Chance program enrolls some of the most economically vulnerable children who have missed out on schooling due to poverty or other barriers. These children are also at high risk of not returning to school once COVID subsides. Luminos tries to incentivize enrollment, for example, by offering school lunch in Liberia. However, there is a real worry that meals alone may not be enough to encourage families to send kids back to school—these children might now be needed to help at home or to contribute economically to the household, given the income shocks brought on by the crisis. Furthermore, those students who do make it back might have a hard time catching up on lost learning.
"Each one of my students will come back to school. Their parents are already asking about it," says Blama, a teacher with the Second Chance program. "But I think when school reopens, some children will find it difficult to catch up."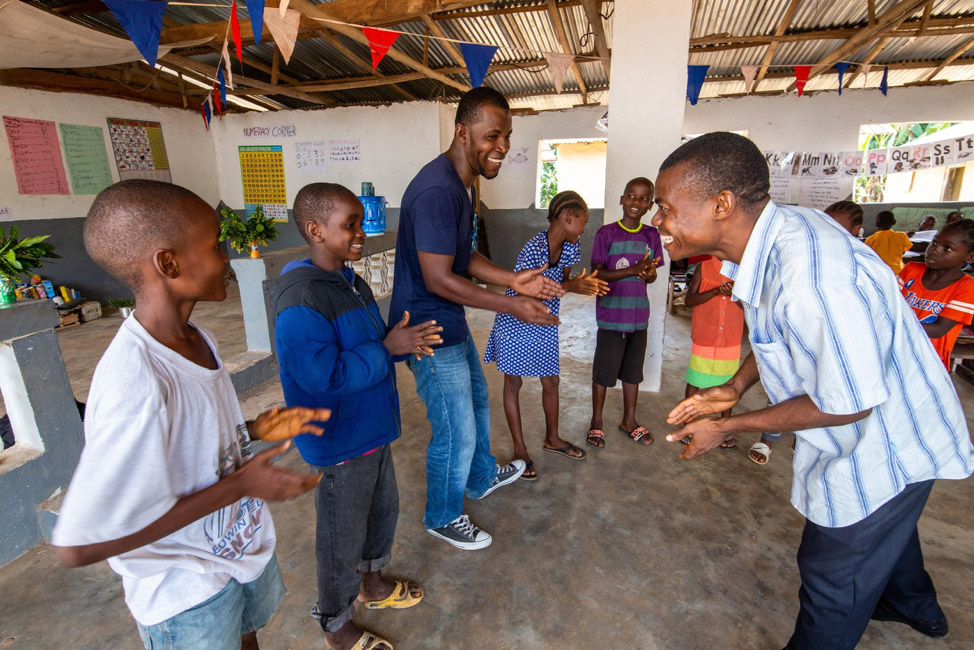 Luminos facilitators have continued to stay in touch with students and their families, which is essential to ensure that children return to school once they reopen. Facilitators, wearing personal protective equipment, visit students to review worksheets, check on their health and the health of family members, share educational radio program schedules, and more. In addition, Luminos teachers are planning for enrollment outreach and delivering catch up lessons to prepare for reopening.
As a part of these reopening efforts, Luminos is discussing how to manage distancing (for example, smaller class sizes and/or multiple shifts), school feeding, and more. In addition, socio-emotional support for returning students is a major concern. While Luminos already provides child protection and sensitivity training for its teachers and supervisors, it plans to train teachers to identify, support, and communicate with children who are struggling psychologically due to disruptions brought on by the pandemic.
It helps that Luminos teachers are still getting paid; some teachers haven't been so lucky. However, there is no guarantee that Luminos will be able to keep paying teachers as COVID evolves. Donor flexibility has helped Luminos adapt its operations to the crisis so far, and the organization will likely continue to need flexibility through the next 6–18 months.
"Coming out of a crisis like COVID or Ebola, there's a high risk that many children won't return to school," says Gbovadeh Gbilia, head of the Education Delivery Unit at Liberia's Ministry of Education, adding that programs that engage communities and catch up children on learning gaps play a key role in the aftermath of a crisis.
Finally, Luminos realizes that building resilience within its school systems is hard but essential. In Liberia, COVID-19 is the second public health crisis in six years to cause prolonged school closures. In Lebanon, where Luminos also works, the current academic year has already been disrupted more than once: schools had already closed for weeks in the autumn due to political protests and civil unrest. Moving forward, school systems will need to develop the agility to close and reopen flexibly, and to pivot quickly to supporting learning at home when needed.
---
Next week we will look at how these organizations are addressing risks faced by some of the most marginalized groups of students.
Center for Global Development features Luminos in its series: "Diaries from the Frontline." The series focuses on education organizations that are pivoting during COVID-19. Here is the first installment, which is also available at www.cgdev.org/blog/diaries-frontline-how-education-organizations-are-providing-food-and-relief-during-covid-19.